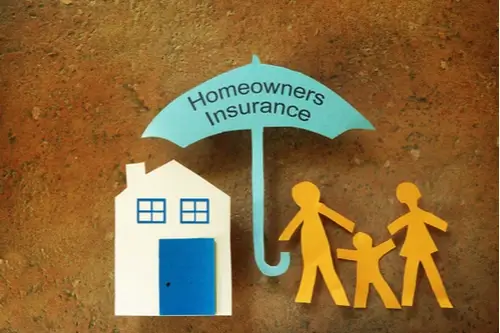 Before you are allowed to sign on the dotted line for a mortgage loan, your lender will require you to have homeowners insurance. This type of insurance protects your property (and the things inside) against damage and loss. It basically provides enough coverage to restore your home to its previous state after a natural or manmade disaster.
Homeowners insurance protects you against many types of damage, but not all. Here's what it covers and what it doesn't:
What Homeowners Insurance Covers
Most standard policies protect you against at least five types of damage.
Natural disasters
Wind, hail, sleet, and electrical storms are all included in traditional policies. Both the structure of the home would be repaired or replaced as well as the items inside your home that are damaged. However, some natural disasters that are more common only regionally, like earthquakes and floods, are not and require supplemental policies to cover.

Fires
If your house were to be damaged by fire caused by something internally or externally, homeowners insurance would pay to rebuild your house and pay for your living expenses while your home is uninhabitable.

Theft and Vandalism
Your homeowners insurance also covers the expense to replace items stolen from your home during a burglary and it will pay to repair broken windows or doors or other vandalism as well.

 



Liability
Your property insurance will even protect you against someone being hurt on your property. This might be from a fall, or tripping, or even from a dog bite from your pet. The policy would pay for their medical bills, or your legal fees should that person choose to file a suit against you. The part of the policy also covers you against damages to your neighbors' property. For example, if a tree from your yard falls and destroys your neighbor's roof, your insurance would pay for the repairs.

Other Structures
Most policies include a line called "Other Structures" that shows how much you would receive if any of the features around your house were to be damaged. This encompasses things like fences, driveways, pools, gazebos, greenhouses, barns, and guesthouses.

 
What Homeowners Insurance Does Not Cover
There are plenty of things that are not automatically covered by this insurance, and you may want to add supplemental coverage depending on your location and situation. As previously stated, earthquakes are not covered under standard policies, and neither are landslides or sink holes. And while you are protected against water damage from burst pipes or malfunctioning sprinkler systems, you are not covered against floods, sump pump damage, or sewer backups. And finally, homeowners insurance never protects your property against neglect. If you fail to properly maintain your home's major electrical and water systems, or your yard hazards, damage that occurs as a result will not be paid for by insurance.
Homeowners insurance is a great way to safeguard your finances against potential disasters and emergencies. Just be sure you understand which events are covered and which you may want to buy extra policies for.