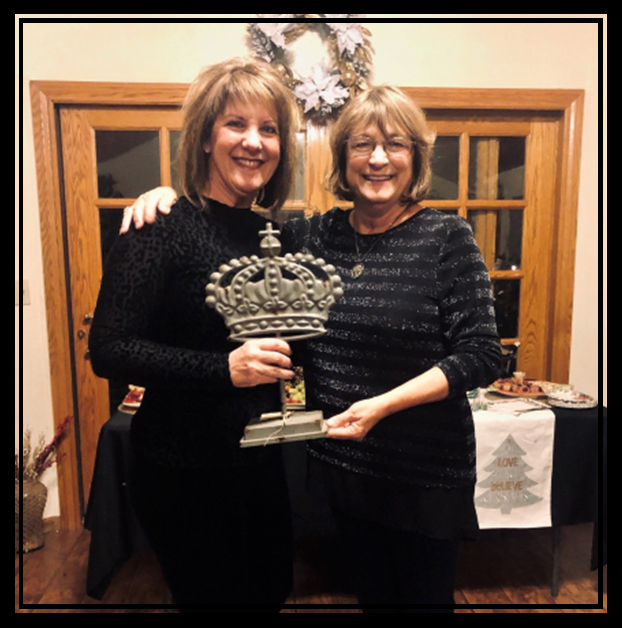 Announcing New Management in 2020— Paula Silva has officially passed the crown over to Angie Cansler in our Hanford Branch Office—and we couldn't be happier for both ladies!
Paula has been the Manager in Hanford since joining KMSI in 2001. She is an integral part of our family, our history, and our growth. "I have been lucky enough to manage at Kings Mortgage for the last 18 years!! So happy to pass the crown to my dear friend and co-worker, loan officer extraordinaire, Angie Cansler."
Pam Raeber, President/CEO of Kings Mortgage has been working on this transition for several months, "I would like to thank Paula for her hard work and loyalty to Kings Mortgage. She played a big part in growing our success. Personally, it has been my great pleasure not only to work with her but also be able to call her a friend. She has been there through the good and bad and has always been of great support to me" she said. "I am happy she has reached a point in her career that she is able to slow down a bit but I am thrilled that she will remain as part of our team. Although I will miss her leadership, I am excited to have Angie take over as our new manager. I am confident in Angie and am looking forward to working with her in her new position," Pam continued.
While Paula may be stepping back, she's not stopping, and will continue sharing her 40 years of knowledge and experience. She will remain in the office helping borrowers with Home Loan Applications and assisting her partner, Tiffani Wedderburn, to make sure her clients are taken care of.
The selection of Angie Cansler to fill the Management position comes naturally. Angie has also been with KMSI since 2001, earning many Top Producer Awards within the Branch and often throughout the entire Company. She has also been recognized by NAHREP as a Top 250 Loan Originator in the entire Nation (most recently #44 in 2018 and #27 in 2017). We asked Angie for her thoughts, "I'm super excited but definitely have big shoes to fill!! Looking forward to my next chapter with Kings Mortgage." She is inheriting a well-run office and has a great team behind her, including her originating partner, Tasha Tomlinson. Angie brings extensive experience in customer service and customer solutions to her new management role and we have full confidence in her capabilities.
Needless to say, we are very excited about 2020 and what the future holds! Congratulations Ladies!